SAFETY FIRST AND FOREMOST
Maintaining a safe work environment on each job site is our primary concern. Lighthouse Electrical conforms to the best safety practices in the industry, the result of which is a consistently strong safety record. All operations are conducted with the utmost regard for the safety and health of our employees, with an emphasis on all employees being compliant with OSHA requirements. All Lighthouse field operations staff have completed, at minimum, OSHA 10-hour training. Lighthouse is a drug-free company that strictly adheres to the Local 103 Drug Testing Policy.
To ensure the safest possible work environments, Lighthouse Electrical's safety program initiatives include:
Pre-project site safety planning
Daily site planning
Safety toolbox talks
Daily jobsite hazard analysis
Strict adherence to the use of Personal Protective Equipment (PPE)
Weekly mandatory safety meetings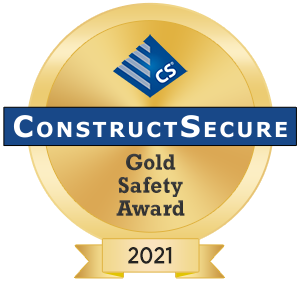 Lexington, MA : ConstructSecure, Inc., a cloud-based mobile platform that empowers clients to make smarter risk management decisions, has announced the recipients of its prestigious safety awards. Lighthouse Electrical Contracting, Inc. has received the Gold Safety Award. This award is presented to companies who register a safety score between 85% – 95% in the Safety Assessment Program administered by ConstructSecure.